Businesses operate in a volatile and hyperconnected world overshadowed by fast technological changes. The speed, scale and extent of any known and new risks have grown exponentially. This makes corporate risk management critical for businesses of every size.
Our corporate clients rely on our expertise, market insights and analytical tools to manage business risks effectively and efficiently. We provide a clear framework and tailored risk management solutions to help them manage uncertainty decisively.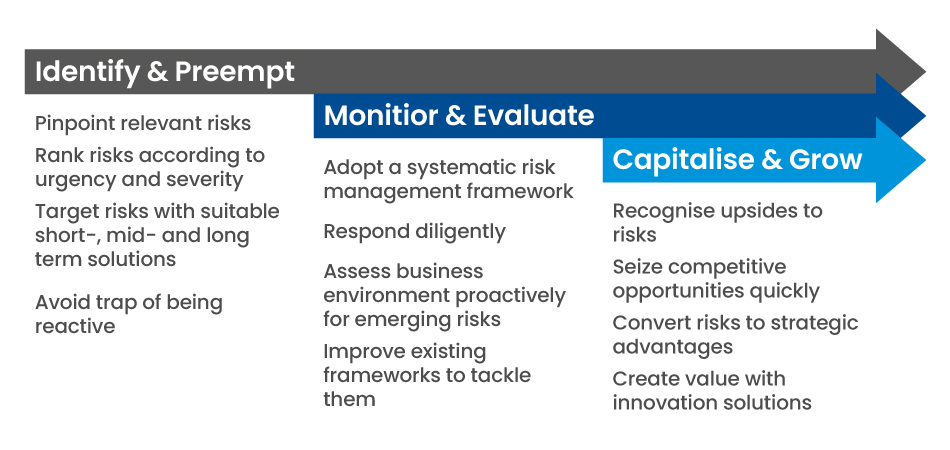 Embracing the ERM approach
We guide business owners to implement enterprise risk management (ERM) as part of a long-term, holistic business strategy. ERM is gaining prominence as a corporate risk management tool, especially for publicly listed companies that are bound by regulatory rules on disclosure. Our approach to risk management incorporates many values ERM Emphasises:
Culture—everyone plays a key role in the organisation's risk outcome
Multi-dimensional—risks are viewed holistically and how they impact the entire organisation
Proactive and continuous—risk management is an ongoing process rather than reactionary in face of crises
Positive gains—find a competitive edge in adversity
Intangible—more than those that can be computed mathematically (e.g. forex fluctuations, interest rate gains/losses) and insured against (e.g. insurance for property, liability, malpractice, keyman etc.). Intangible risks include reputational loss from a social media fiasco or cyberthreat, supply chain disruptions, being the target of a hostile takeover etc.
Mitigating risks through sound insurance planning
Safeguard your business assets and ensure business continuity with the right type and level of coverage. We partner diverse brands, but only recommend those that address your business needs. Choose your policy based on clear facts so you will never be under or over insured.
Considering all stakeholders in risk management
In addition to the financial aspects of risk management, we help business owners do a comprehensive audit to strengthen internal control processes, regulatory compliance and governance. Make informed decisions on enterprise risk management with SG Alliance to thrive in today's fast changing business landscape.